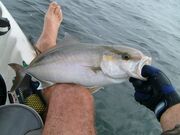 From the same family as the YellowTail Kingfish and the Samson fish these fish frequent the waters around Sydney over the warmer months and are often mistaken for Kingies. The juveniles have a distinctive bar through their eye which is one of the give aways (see below photo).
There is no legal size limit on these fish in NSW
57cm
Caught by: Physhopath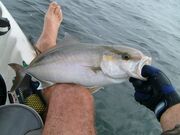 Date of Capture: 2/3/2009.
Location: South West Rocks
Tackle Used: 20lb line, 40lb leader, 8/0 hook through a yakka
48cm
Caught by: Kuska
Community content is available under
CC-BY-SA
unless otherwise noted.